'All In One Basket' Large Box
£270.00
The magic of Christmas is all about the indulgent food. So why not celebrate this Christmas with a luxurious box full of family festive favourites. Our "All in one" large box features our best-ever, free-range turkey from the award-winning Caldecott farm in Worcestershire. The succulent texture and flavour of the meat is of the highest quality and guaranteed to add a sparkle to your Christmas table.
The luxurious box also contains a simply stunning Beef roasting joint. Easy to carve and boneless, our traditional British beef breeds are grass fed on lush pastures, then dry aged for a minimum 28 days to ensure a wonderful flavour.
Perfect for a Boxing day cold meat buffet, we have also included a delicious traditional butchers Cornish cured gammon joint, crafted using a traditional butcher's blend of ingredients to cure the meat.
Last but by no means least, the festive essentials. Four packs of streaky Bacon, four packs of Elston farm pigs in blankets, fresh chestnuts, sixteen prime pork sausages and the finest matured British pork sausage meat.
A perfect larger sized selection box for a luxury Christmas day or Boxing day celebration for 10-14 people. Eat, drink and be merry with a luxury Christmas meat box delivered from our Devon farm to your door.
Available to pre book now for delivery from 8th Dec – 19th Dec
'All In One Basket' Large Box Serves 10-14 People
1 x Bronze Free Range Turkey – approx 7kg
1 x Dry Aged Sirloin Boneless (Rolled) – approx 3kg
1 x Boneless Gammon Joint (Unsmoked) – approx 3kg
4 x Streaky Bacon – approx 500g
1 x Cooked Chestnuts – approx 500g
4 x Traditional Pigs in Blankets – approx 400g
2 x Traditional Pork Sausage Meat – approx 450g
2 x Prime Pork Sausages – approx 550g
You can have your order delivered Tuesday to Saturday. The Nationwide flat rate charge is £5.95 for weekday deliveries, the charge for a Saturday delivery is £12.00. Order before for 12 midday Monday to Friday for next day delivery. T&C's apply, check our delivery policy for further details. Customers in the EX17 postcode area can choose free local delivery.
Christmas Delivery
With this year promising to be ultra busy for online orders and courier deliveries, we would like to encourage customers to place their order and receive delivery as early as possible to avoid the Christmas rush. We have specifically decided not to deliver just prior to Christmas as we believe your order is too important to be lost or damaged in the last minute rush we expect this year. We would much rather you received the meat safely into your freezer in plenty of time, so you have satisfaction guaranteed.
Description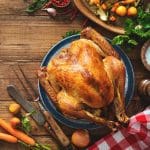 Bronze Free Range Turkey
Our free-range Bronze turkeys come from award winning Caldecott farm in Worcestershire where the birds are free to range at all times in their light airy buildings and when the sun is shining, whether its dry or snowy, the birds like to roam their dedicated pastureland at the 40 acre farm. These bronze Turkeys are allowed to grow steadily in a relaxing environment. The texture and flavour of the meat is of the highest quality. A fantastic choice for your Christmas dinner.Blast Frozen to seal in the moisture and flavour and with the giblets removed and packaged alongside, simply defrost for 24 hours, oven cook and enjoy a tasty & merry Christmas. Includes a handy pop out timer to know when your Turkey is cooked to perfection.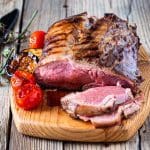 Dry Aged Sirloin Boneless (Rolled)
A simply stunning Beef roasting Joint perfect for the Christmas table. Easy to carve and boneless making a beautiful addition or alternative to the Christmas Turkey. Our traditional British beef breeds are grass fed on lush pastures, we then dry age for a minimum 28 days to ensure a wonderful flavour. A sumptuous sirloin centre piece – Merry Christmas.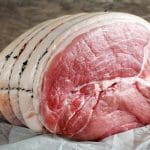 Boneless Gammon Joint (Unsmoked)
Our Cornish cured gammon uses a traditional butcher's blend of ingredients to cure the meat and create a joint that is succulent and flavoursome. The meaty flavour makes it perfect for Christmas day or for cold meats from Boxing day onwards. Prime British pork, full of flavoursome, tender meat, just add a generous dollop of English honey, Cloves and English mustard for a traditional home cooked Christmas ham as it should be.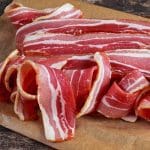 Streaky Bacon
Unsmoked prime British pork promises 16 rashers of perfect full flavoured bacon. Sourced from trusted farms, our bacon is made exclusively from native breeds and prepared ready for Christmas cooking. Wrap around the festive Turkey or our tasty selection of sausages and let the festive party begin. Crispy rich bacon, packed full of flavour.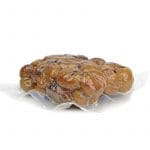 Cooked Chestnuts 
Our Whole Chestnuts have been cooked, peeled and vacuum packed to capture their naturally sweet, nutty flavour. Simple to use – mix them straight into a stuffing or stews, whizz them into soups, or mash and stir them into your gravy for a sweet and nutty delicious festive twist.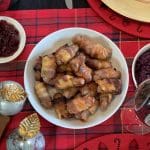 Traditional Pigs in Blankets 
Our Tasty, Elston Farm premium little sausages individually wrapped in slices of our delicious Streaky bacon to create these truly festive little 'Pigs in Blankets' – perfect tucked around a roast Turkey or cold on a plate with leftovers… mmm, they're guaranteed to disappear fast! An essential addition to any Christmas Dinner!
Traditional Pork Sausage Meat
Our Sausage Meat is hand-ground from our own, carefully matured pork – perfect for sausage rolls, Christmas stuffing and more. Finest natural ingredients. An essential ingredient to any Christmas feast.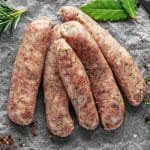 Prime Pork Sausages
A taste sensation of the finest cuts of British pork made by Barry our champion sausage maker. He has his own recipe and insists on using the right balance of cuts. He has won so many competitions we don't mention it as he gets big headed. No shrinkage – just meaty succulence. Gluten Free.