Bap Box
From: £32.50
Makes approx 28 Baps.
2 x Pack Back Bacon – Rindless, approx 8 Rashers per pack
16 x Prime Pork Sausage – 8 per pack, Approx 550g
4 x Prime Rustic 5oz Beef Burger  – 100% Beef
4 x Rustic 5oz Lamb & Mint Burger – 100% Lamb
4 x Rustic 5oz Sticky BBQ Pork Burger – 100% Pork
Ideal for BBQ's or just as family treat!
You can have your order delivered Tuesday to Saturday. The Nationwide flat rate charge is £5.95 for weekday deliveries, the charge for a Saturday delivery is £12.00. Order before for 12 midday Monday to Friday for next day delivery. T&C's apply, check our delivery policy for further details. Customers in the EX17 postcode area can choose free local delivery.
Christmas Delivery
With this year promising to be ultra busy for online orders and courier deliveries, we would like to encourage customers to place their order and receive delivery as early as possible to avoid the Christmas rush. We have specifically decided not to deliver just prior to Christmas as we believe your order is too important to be lost or damaged in the last minute rush we expect this year. We would much rather you received the meat safely into your freezer in plenty of time, so you have satisfaction guaranteed.
Description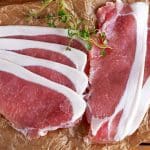 Back Bacon
– Rindless, approx 8 Rashers per pack
The loin of the pig salted and not smoked, thick sliced, full of flavour and the best of British pork,
the perfect foundation of every breakfast.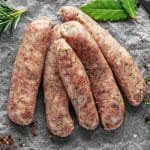 Prime Pork Sausage
– 8 Per Pack
A taste sensation of the finest cuts of British pork made by Barry our champion sausage maker. He has his own recipe and insists on using the right balance of cuts. He has won so many competitions we don't mention it as he gets big headed. No shrinkage – just meaty succulence.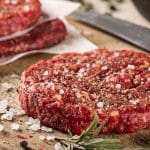 Prime Rustic 5oz Beef Burger 
 – 100% Beef
Our prime beef, from a blend of cuts, minced and formed into perfect burgers. Gluten Free.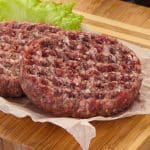 Lamb and Mint Burgers – 
– approx 115g (5oz) each
Great for the barbecue, these lamb burgers are made using grass fed lamb from Devon and Somerset. Contains Gluten.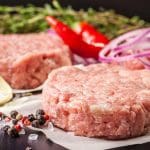 Rustic 5oz Sticky BBQ Pork Burger
 – 100% Pork
Cornish pork, minced, a bit of magic and we have a burger children love. Contains Gluten.