BBQ Boxes
From: £29.50
8 x Prime Rustic 5oz Beef Burger – 100% beef
16 x Prime Pork Sausage
16 x Chicken Drumsticks – approx 75g (3oz) each
16 x Chicken Wings – approx 75g (3oz) each
2 x Marinade Seasoning – Smoky BBQ and Hot & Spicy, 35g each ** Flavour substitutions may be made
We are now able to supply Charcoal with your BBQ Box, making life a little easier for you. You can now add 2.5 kg Instant Lite Charcoal to you order, each bag contains two 1.25kg bags.
You can have your order delivered Tuesday to Saturday. The Nationwide flat rate charge is £5.95 for weekday deliveries, the charge for a Saturday delivery is £12.00. Order before for 12 midday Monday to Friday for next day delivery. T&C's apply, check our delivery policy for further details. Customers in the EX17 postcode area can choose free local delivery.
Christmas Delivery
With this year promising to be ultra busy for online orders and courier deliveries, we would like to encourage customers to place their order and receive delivery as early as possible to avoid the Christmas rush. We have specifically decided not to deliver just prior to Christmas as we believe your order is too important to be lost or damaged in the last minute rush we expect this year. We would much rather you received the meat safely into your freezer in plenty of time, so you have satisfaction guaranteed.
Description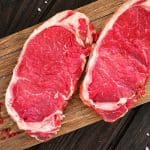 Sirloin Steak
– approx 227g (8oz) each
Our premium Sirloin is cut from the densely flavoured portion of the rib. Our master butchers trim this steak meticulously giving one of the juiciest, tenderest sirloins available anywhere. Beautiful, tender steaks, hand cut from our prime beef.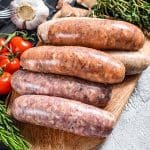 Trio of Sausages 
– approx 260 (9oz) per pack
A trio of our favourite sausages, Pork and honey, Pork and leek and our very best venison sausage.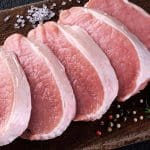 Pork Loin Steak
 – Rind on & Boneless, approx 227g (8oz)
British Premium Pork cut from loins we source from a Cornish farm, hung in our dry-ageing chiller to mature the flavour.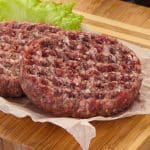 Lamb and Mint Burgers – 
– approx 115g (5oz) each
Great for the barbecue, these lamb burgers are made using grass fed lamb from Devon and Somerset. Contains Gluten.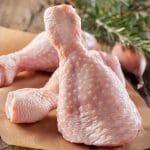 Chicken Drumsticks
 – approx 75g (3oz) each
Tasty British drumsticks from our excellent Shropshire chicken, great for the barbecue or sticking under the grill.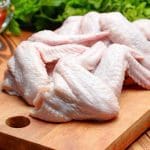 Chicken Wings
 – approx 75g (3oz) each
These chicken wings, cut when we are doing the fillets are sweet and succulent, crisp them up with a barbecue sauce, the children (and everyone else) love them.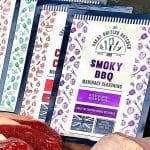 Marinade Seasoning
 – 4 Flavours (Classic Chinese, Hot & Spicy, Garden Mint and Smoky BBQ), 35g each**Flavour substitutions may be made
We buy these marinades from our ingredient supplier. They are a handy and quick way to change a recipe and add another dimension to our meats. Perfect for barbeques but also great for roasts and grills. We have 4 flavours of Marinade from The Great British Butcher – Smoky BBQ, Hot and Spicy, Classic Chinese and Garden Mint.