Duck and Venison Box
£65.00
Feeds 4 People for approximately 6 Meals.
1 x Free Range Duck – approx 2400g
4 x Free Range Duck Breast – Skin on, approx 200*230g (7-8oz) each
4 x Venison Loin Steaks – approx 170g (6oz) each
1 x Diced Venison – approx 500g
You can have your order delivered Tuesday to Saturday. The Nationwide flat rate charge is £5.95 for weekday deliveries, the charge for a Saturday delivery is £12.00. Order before for 12 midday Monday to Friday for next day delivery. T&C's apply, check our delivery policy for further details. Customers in the EX17 postcode area can choose free local delivery.
Christmas Delivery
With this year promising to be ultra busy for online orders and courier deliveries, we would like to encourage customers to place their order and receive delivery as early as possible to avoid the Christmas rush. We have specifically decided not to deliver just prior to Christmas as we believe your order is too important to be lost or damaged in the last minute rush we expect this year. We would much rather you received the meat safely into your freezer in plenty of time, so you have satisfaction guaranteed.
Description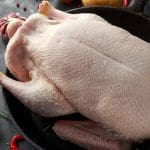 Free Range Duck
 – approx 2400g
Free range duck from our friends, just 4 miles away, at Creedy Carver. As recommended in a recent FaceBook video by Jamie Oliver. The duck's flavour is amazing and the crispy skin… Prick the skin all over before roasting to let the fat out to baste and roast. Great for pancakes as well.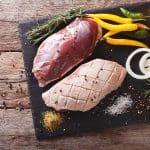 Free Range Duck Breast
 – Skin on, approx 200*230g (7-8oz) each
Delicious Female Duck Breasts, very flavoursome. Raised in the Loué region of France and providing a sweet succulence that is milder than Mallard duck. It is easily pan fried and oven roasted but for a fabulous texture and smokey flavour.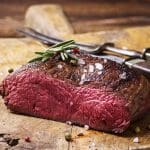 Venison Loin Steaks
 – approx 170g (6oz) each
This is the tenderest meat money can buy. Absolutely delicious, healthy, full of iron, omega 3s and generally a super food. The ultimate muscle food, 34% protein. Cook it quick and keep it rare in the middle. If you have never had it, you will be truly amazed when you do.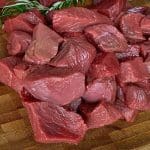 Diced Venison
 – approx 500g
One of the super foods, ultra-lean, full of omega 3s and 34% protein, tender diced venison, simply slow cook, marinade or stew.